HOUSING & DINING
Housing and accommodation options
If you're in the International Year One Program, you will live on campus in your first year. Intensive English students also have the option to stay and live on campus during their studies. Living on campus allows you the opportunity to connect with other students, learn about other cultures and build friendships. Each residence hall has a professional staff member living in the hall along with student leaders who provide a safe environment for students.
Most students request to live in a traditional dorm with one roommate, communal bathrooms and showers, with additional community rooms and common study areas. If you are looking for a supportive first year American university experience, we suggest you apply to live in one of the traditional dorms. You can also request to live in a Global Connections Community, where you will be paired with other local or international students.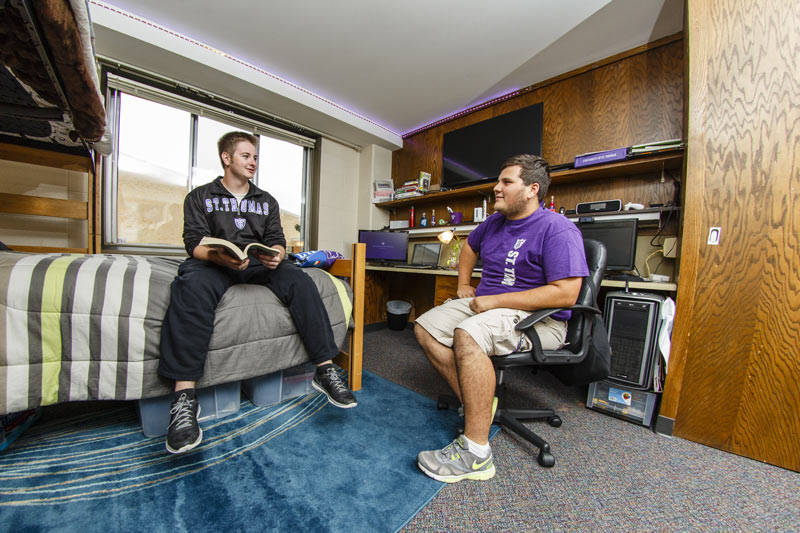 All on-campus housing comes furnished. Linens can be purchased in advance or upon arrival. Laundry machines are also provided at no extra cost.
Students will be placed in a double room in a traditional style freshman residence hall. Dowling and Brady are sample residence halls you can view:
Dowling Residence Hall – Doubles
Brady Residence Hall – Doubles
No option for singles
2019-2020 Fees estimated:
Dowling and Brady = $3406 per semester
Meal Plan: International Year One students will be on the full meal plan; no refunds or changes in year 1
Unlimited meal plan is $2175/semester
Once you accept your offer of admission, you will make a deposit that also secures your housing. You will also complete a Housing Preference Form before you arrive so we can match you with a roommate.
Dining
The University of St. Thomas Dining Services is a self-operated service that provides meals for approximately 12,000 students, faculty and staff, as well as community members, and visitors daily. All University of St. Thomas International Year One Program students will have an unlimited meal plan at the student cafeteria, The View. Students will also have guest meals and a Flex Dollars Account to dine at other on-campus and off-campus locations, including The Binz, T's, The Loft, Scooters and Beakers.