Straight From the Students
Find out what it's like to be an international student at the University of St. Thomas.
Duyen Su, Vietnam
I really like the international community here because people are so friendly, welcoming and nice to each other. We have group called ISA where we can help to contact students around the world and bond our friendship while working. It is smaller than what I expected but it is perfect since we can be closer to others. But we have quite amount of Vietnamese student, so sometimes we gather and celebrate our holiday.
The weather here, it is unpredictable sometime. Thus, I have to check the weather everyday so I can dress properly. But the fall here is beautiful, it is so romantic. And the summer is nice, it is not too hot.
After graduating, I am planning to go to graduate school to pursue a PhD. I might stay here for more years after graduating to finish my graduate degree. Because I had an opportunity to work as student researcher after my freshman semester, I realized 'why I don't pursue this career' (because) I really like it.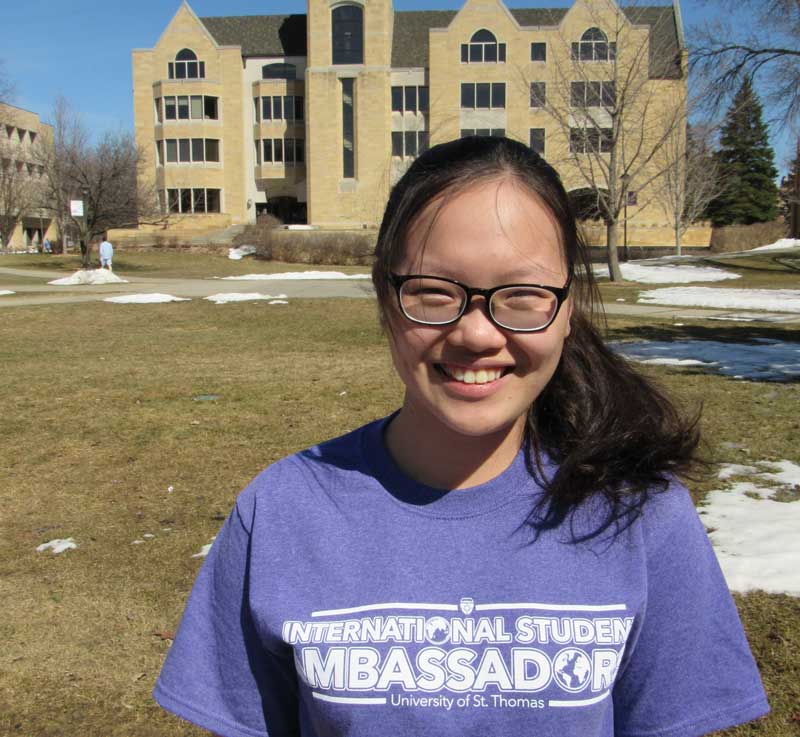 Partly because I know that students (are going to) have a lot of opportunity to work at research. Also, the class size is small so we can contact with professor easier.
The OISS office particularly, all of people are super welcoming and willing to help you with any problem.
It did improve a lot since I use English every day. And studying in English teaches me to speak English more naturally.
I really love the library here; it's the best place to study either alone or as a team. And I love the fall in Minnesota. It is gorgeous.
Julie Tømmerberg, Norway
The thing I love the most about the international community at St. Thomas is that (almost) everyone is involved. People want to get to know you and they want to participate in international events. It is nice to know people who are going through similar things as you. Even though many of us come from different cultures and countries we still have a lot in common. I get to be introduced to new cultures through events that are being held and also just by talking to the other international students. I think it is cool to know that you have friends from all around the world. Also, having some Norwegian friends here makes me feel closer to home and it has become a safe place where I can be myself 100 percent and we can celebrate Norwegian holidays and traditions together.
I never thought it would be so easy to be involved. St. Thomas provides a lot of opportunities for its students, and it is very easy to participate in things that will boost your resume and education. I was not expecting to get so much more out of this experience than just a degree in business. The international office make it so easy and fun to participate. I have, for example, participated in the Global Tommies excursion where we were learning to communicate and work with people from different cultures. I am also an International Student Ambassador where I learn to be responsible for different events on campus and also how to be someone who both current and prospective students feel like they can go to if they have any questions or concerns about the life at St. Thomas.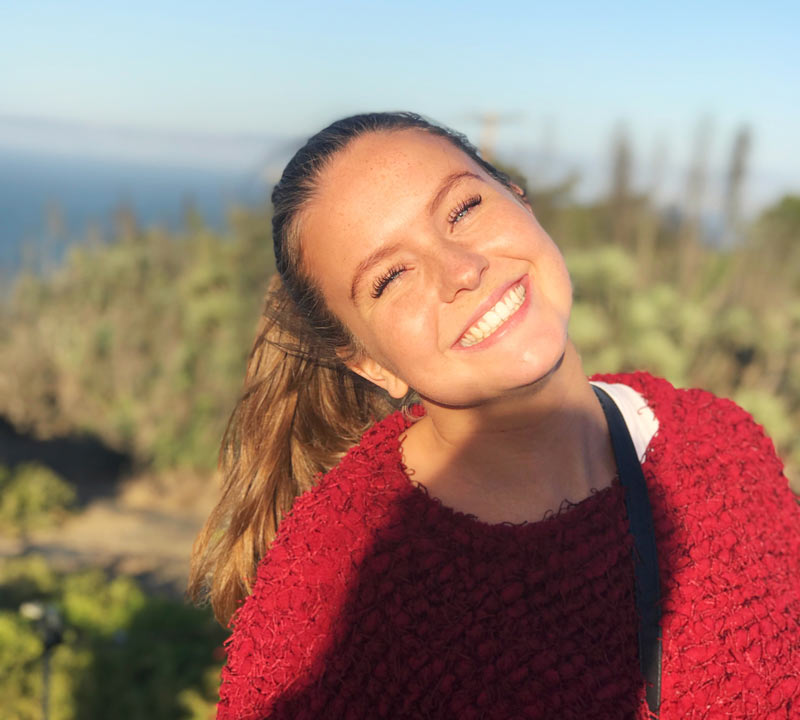 All of my friends have been very interested in learning about my culture. They always ask questions and try to celebrate the Norwegian holidays with me. My boyfriend and his family actually made a 17th of May (Norway's constitution day) party for me and some of my other Norwegian friends last semester, which I thought was super cool. They are doing their best to engage and to learn, and they often have questions that I don't even know how to answer. It's almost like they care more about my culture and history than what I do, which is awesome.
I am trying my best to learn about different cultures and especially the American one since most of my friends either are American or Norwegian. I always get invited to go to my boyfriend's family when they are celebrating something special like Thanksgiving.
I applied to different schools here in the Twin Cities but St. Thomas was the school who gave me the best offer including scholarship and how long it would take for me to graduate. The size of the school also helped my decision. I like that the school is big enough for you to get the 'real' college experience, but also small enough so it is easy to make friends and to get to know your professors. The school is also beautiful, which made the decision even easier.
The staff working at the International Office have always made me feel welcomed. It is nice to be able to walk into OISS and know that you are going to be met in the door with a smile from Margaret or any staff who's in the office. It is also nice to have a hang-out place for the international students, where you know you are going to meet a friendly face if you're having a slow, bad or boring day.
My English improves every day. Being forced to talk English every day and hear English every day does so I hear new words and bump into new challenges trying to explain things every day. I am challenging myself and I try to ask questions when I don't understand and look up words that is not in my English vocabulary.
It is hard to pick out one favorite thing about St. Thomas, but I love the size of the school. It is small enough for you to be able to make friends in your classrooms, for the professors to get to know you, and to see people you know in the hallways which makes the school feel safer and like a place where you know you'll have people who knows you and care about you. But, the school is also big enough for you to get that college experience you I have been looking for. There are different sports events, clubs, parties, and lots of opportunities for you to explore, and you will always have new things to do or try out.
My favorite part about Minnesota is the parks and the lakes. I love the summer in Minnesota where you can go to parks and have picnic or to one of the thousands lakes to go swimming or rent a pontoon to go fishing. I also love all the small cute cafes around the cities.