Life At the University of St. Thomas
There's so much more to college life than just classes and textbooks. As a Tommie, you're part of our community, and we want you to feel welcome. From making new friends to answering questions about your course, we offer support through clubs, social groups, and counselling for international students. Want to know what it's like at the University of St. Thomas? Take a virtual tour of the campus, or read about some of our international students' experiences.
At St. Thomas, you have the opportunity to connect with a student community and enjoy a wide range of social activities throughout the year. This supportive environment will help you find a balance between your studies and social life.
"The diverse community here makes me feel closer to my home" – Hy Nguyen, International Student, Vietnam
"[The great thing about St. Thomas is that] people want to get to know you and they want to participate in international events. It is nice to know people who are going through similar things as you." – Julie Tømmerberg, International Student, Norway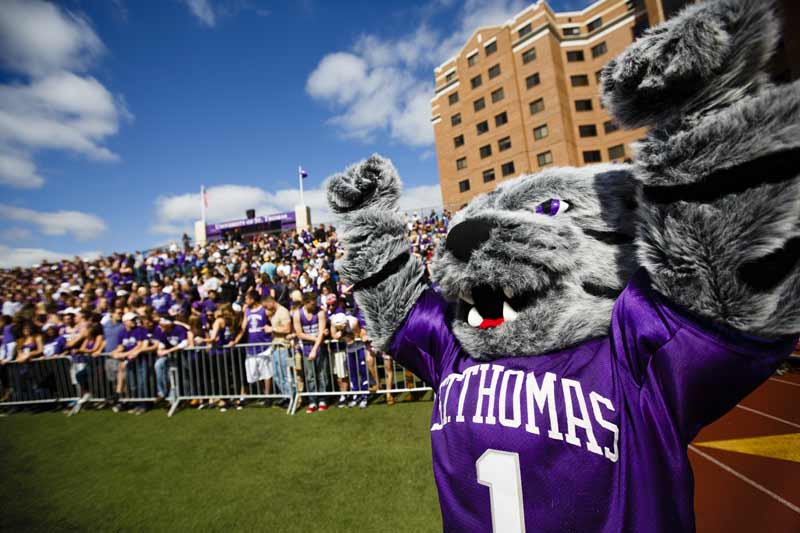 Becoming a Tommie
One thing you'll learn when you become a student at St. Thomas is that college life in America is quite unlike anywhere else in the world. American college students are very connected to their community on campus, and it is this sense of community that many international students say makes them feel part of something bigger.
All students at the University St. Thomas are known as "Tommies," which comes from the name of the university mascot. The Tommie mascot is an ambassador and promoter of school pride and spirit at on-campus events. You'll become a Tommie from the day you arrive, and once you become a Tommie, you're a Tommie for life.