Location / About Minnesota
We may be biased, but we believe Minnesota is a pretty special place—not just because of its picturesque lakes and breathtaking natural surroundings but also because of the friendly, welcoming people who call Minnesota home.
Minnesota is one of America's northernmost states, located in the Midwest region of the U.S., sharing its borders with Canada. Aside from being one of the most livable states in the United States, Minnesota is considered to be among the best places for outdoor activities with opportunities for photos at every turn. From the pristine lakes it's well known for to beautiful nature walks, you'll have plenty to explore if you're up for an adventure.
Minnesota is also home to a myriad of museums, art galleries and shopping areas. You might have heard of the "Twin Cities" after its two largest cities, Minneapolis, the most populous city in the state, and the state's capital, St. Paul, where our campus is located.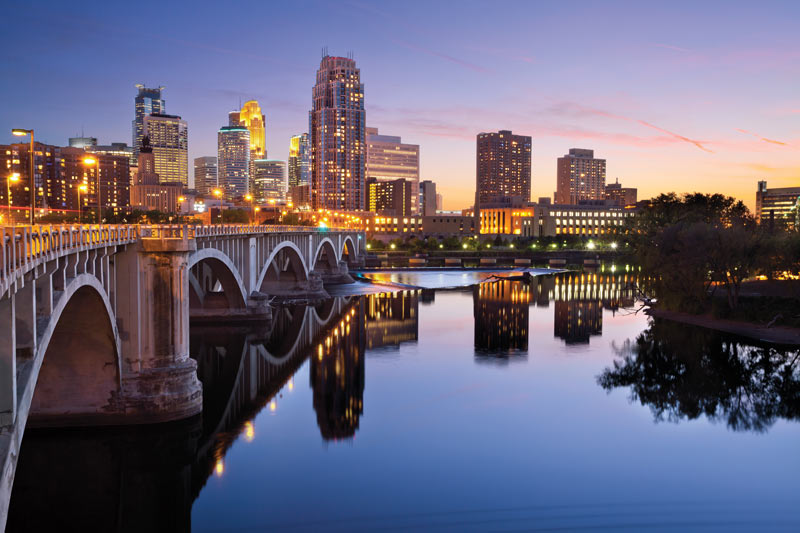 About St. Paul
As a student of the University of St. Thomas, you'll be able to explore everything St. Paul has to offer, including the cafes, bars, historical monuments and churches. Attractions not to miss include the Cathedral of Saint Paul, AAW Gallery of Wood Art, Fort Snelling and the Minnesota History Center.
The St. Paul campus is located near the picturesque Mississippi Gorge Regional Park along the banks of the Mississippi River, 15 minutes from the International Airport.
A free bus connects our St. Paul campus to our campus in the heart of Minneapolis, home to the Opus College of Business, the College of Education, Leadership and Counseling, and the School of Law, and connects your education to the wider world.
"My favorite part about Minnesota is the parks and the lakes. I love the summer in Minnesota where you can go to parks and have picnic, or to one of the thousands lakes to go swimming or rent a pontoon to go fishing. I also love all the small, cute cafes around the cities." – Julie Tømmerberg, International Student, Norway